What Are Hormones?
Hormones (For eg. estrogen, testosterone & adrenaline) are chemical messengers that affect many aspects of your overall health.
Hormones are secreted by various glands and organs. These glands include:
thyroid
adrenals
pituitary, ovaries
testicles
pancreas
The entire endocrine system controls the level of hormones circulating throughout your body.
It only takes one of these Hormones to be slightly imbalanced and you may experience some health problems.
Hormone Imbalance Symptoms
Irregular periods
Weight gain or weight loss (that's unexplained and not due to intentional changes in your diet)
Depression and anxiety
Changes in appetite
Digestive issues
Hair loss & hair thinning
Fatigue
Insomnia
Low libido
If you think you have hormone issues, seek a doctors advice immediatley. It's important to be fully informed and understand exactly what is going on with your body, before you make any decisions about treatment.
Modern Medicinal treatments for hormonal imbalances usually consist of prescribed medications, for example:
Synthetic hormone replacement therapies
Birth control pills
insulin injections
thyroid medications
Unfortunately, for the majority of people suffering from hormonal disorders, relying on these types of synthetic treatments often experience a series of side effects and are dependant of pharmaceuticals their entire lives.
There are a few reasons people use essential oils for Hormone support.
Sometimes Hormones aren't necessarily imbalanced, We do go through changes during our menstrual cycle.
Stress and other factors can often lead to temporary changes in the body.
If you are on medication, Essential Oil can still be a wonderful complimentary support product.
You can support your anxiety and mood with essential oils, making these changes easier to tolerate.
It's important to be well rested and enjoy a healthy diet alongside any treatment you pursue.
Essential Oils To Help Support You:
Clary sage helps to balance estrogen levels because it contains natural phytoestrogens. During your menstrual cycle, rub three to five drops on the abdomen for a soothing massage.
Fennel: Promotes a healthy metabolism & can be added to water or tea to help fight sweet tooth cravings.
Lavender: Lavender oil promote calm. Reduces anxious feelings and promotes peaceful sleep
Sandalwood: Frequently used in meditation for its grounding and uplifting properties. Inhale Sandalwood directly from palms or diffuse to lessen tension and balance emotions.
Thyme: During the Middle Ages, Thyme was often placed beneath pillows to help promote a peaceful sleep and to ward off nightmares Dilute with Fractionated Coconut Oil then apply to targeted areas on the skin to purify and promote healthy-looking skin.
Dealing With Emotions Using Aromatherapy Support
doTERRA makes emotional aromatherapy easy and accessible for anyone dealing with common negative emotions with a new line of proprietary essential oil blends representing six categories of emotional well-being. Each delicate blend contains CPTG Certified Pure Therapeutic Grade® essential oils that can be used aromatically or topically to help balance and brighten your changing moods. Just a few drops of these naturally complex, fragrant blends can elicit profound emotional responses to help you let go of burdens, find comfort and encouragement, or inspire you to dream with passion again.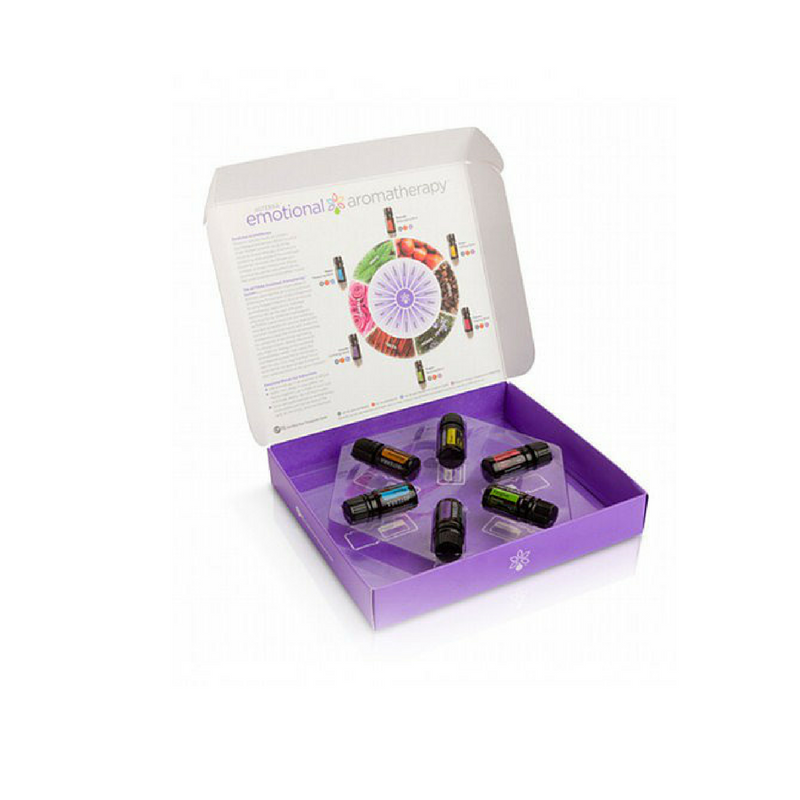 The doTERRA Emotional Aromatherapy Kit contains all six of the emotional blends from the doTERRA range.
You receive 5ml bottles of Cheer, Console, Forgive, Motivate, Passion and Peace.