This Doterra Ice Blue Recipe is amazing!
Your customers should know about this Ice Blue Recipe so they have the option of creating their own blends.
Recently I had several different potential customers, in all sorts of pain, with all sorts of budget issues.
I realised there is a problem here I can fix, by providing options. 
Make Your Own Ice Blue Recipe Roll On 
The basic Ice Blue recipe:
Using a 10ml Roller Ball Bottle
20 Drops of Ice Blue
Top off with Fractioned Coconut Oil 
If you are looking to extend your Ice Blue recipe further:
15 drops of Ice Blue
5 Drops of Peppermint
Top off with FC Oil in a 10ml Bottle.
I prefer using the Peppermint Oil as I feel it lengthens the sensation after applying the oil.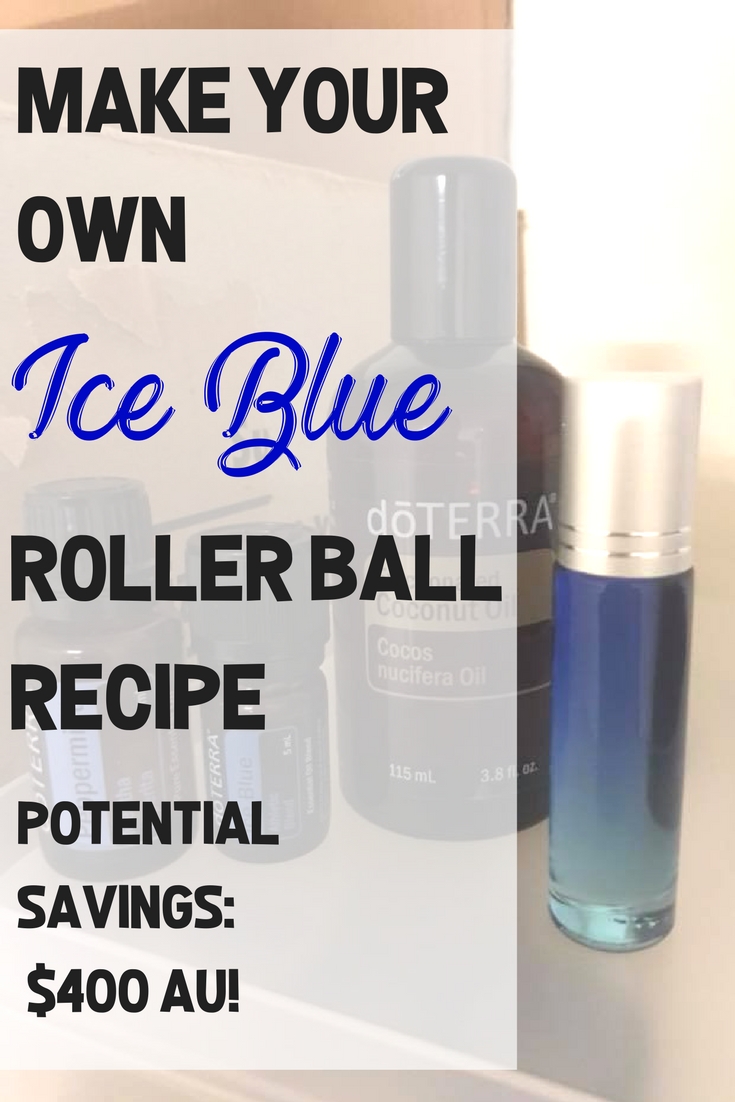 Do you actually save money this way?
Firstly, keep in mind your roll on/touch products are a little different to the DIY blends. I am not trying to discourage you from buying the Roll On or Touch products, this is simply an option you should know about.
If a rollerball bottle distribution is the key point you are looking for – YES YOU WILL SAVE A BUCKET. 
Does The Ice Blue Recipe Have To Be In A Roller Ball Bottle?
No. However…..
Making your Ice Blue recipe in a Roller Ball bottle decreases the amount of liquid you dispense so you have more control, therefore saving money.
This way you also don't get it all over your hands which can be a bit of a hazard with Ice Blue. If you accidentally touch your eye area after applying with the original Doterra bottle, it will burn. 
I prefer to keep any Essential Oil I apply topical in these bottles, they last a lot longer especially when using them on children, who have a habit of bumping me when I have a regular dropper in my hand.
DIY Recipe Cost:
5ml bottle of Ice Blue Wholesale is $42.50AU + FC Oil $16.50 = TOTAL COAST $59
This makes almost 7 x 10ml Rollerball Bottles when you add Peppermint Oil
Best practice is to use a Funnel when making blends, this helps count the drops. 
Cost Of Doterra Roll on or Touch On a Wholesale Account:
1x Ice Blue Roll On From Doterra: $85.00 or Ice Blue Touch: $62.00
If you have an amazing consultant (hint…hint…me) they will help you arrange what you need to create your DIY Roll ons by helping you place to right order and organising your Roller Ball bottles.
Sometimes your Doterra Wellness Advocate will go even further and make them up for you, this is something I have already done many times in the early days of my Doterra business. 
You simply pay for the bottles on top of your order (around $1.50 – $2 for a decent Roller Ball Bottle).
Who Have I Made These For?
In my first week making these up I supplied one bottle to a woman with post cancer neuropathy pain. She loves the oil, but is too unwell most days to create her own blends. So I did them up and sent them out to her. I have since given them out to another customer who wanted to give them to a family member in the nursing home to try, another customer who would find it difficult to create their own. 
The knock on effect of this – without even TRYING – are potential enrolments.
Simply through the act of helping people.
Once you try Ice Blue – pharmacy creams and balms will never compare. 
NEED TO ORDER SOME ICE BLUE SO YOU CAN MAKE YOUR OWN?
There are a couple of ways you can order.
If you join Doterras $35 a year Wholesale Customer Program – you get the prices above.
The Ice Blue alone is discounted over $14 for a wholesale customer. 
If you prefer to buy JUST the Ice Blue, You can do that HERE.
If you would prefer to order without going through the online process, just email me at [email protected]