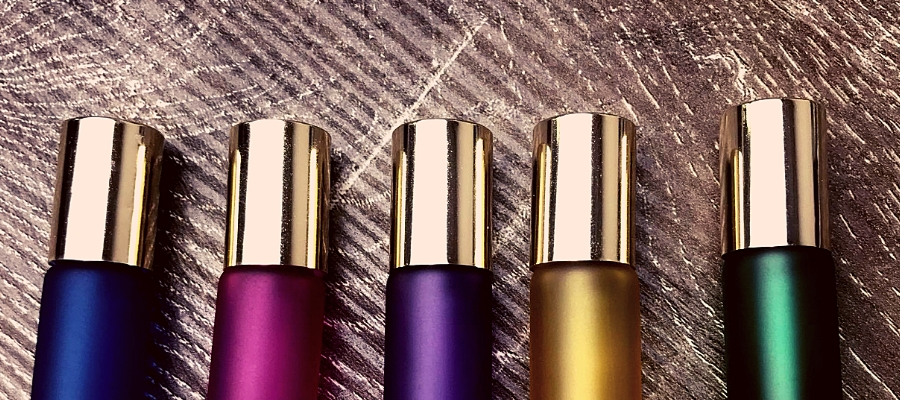 This Doterra Ice Blue Recipe is amazing!
This Ice Blue Recipe will give your customers the option to create their own blends.
In your essential oil business you will come across many potential customers, with several different needs.
These needs will range from health, scent preference and the elephant in the room. 


The Elephant In The Room?
I'm talking about finances. Something advocates are often worried about talking about.
If your customer raises finances as an issue, don't ignore them. Give them options. 
Creating blends out of your favourite oils can also help them last a bit longer, something we should all take advantage off.
Another point to add is when using ethically & sustainable sourced essential oils, it makes no sense to use more than what is needed.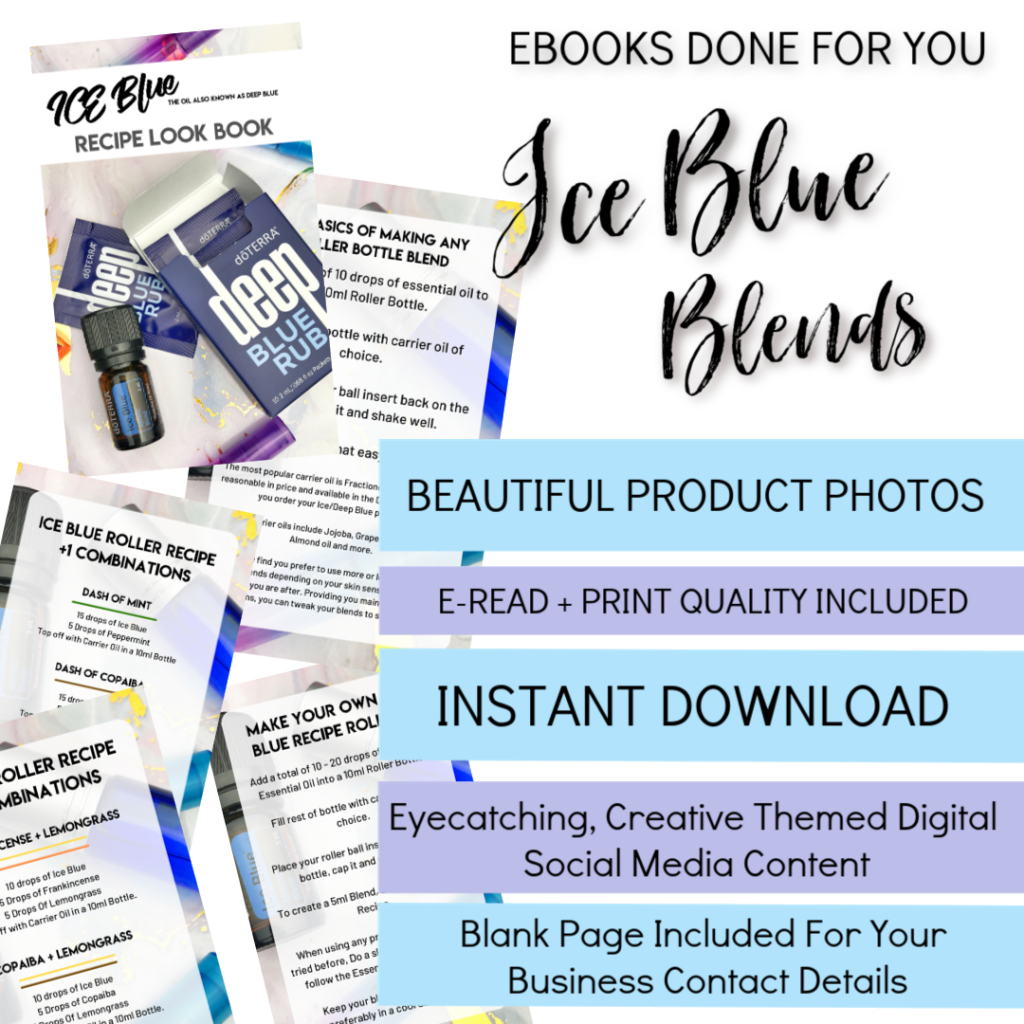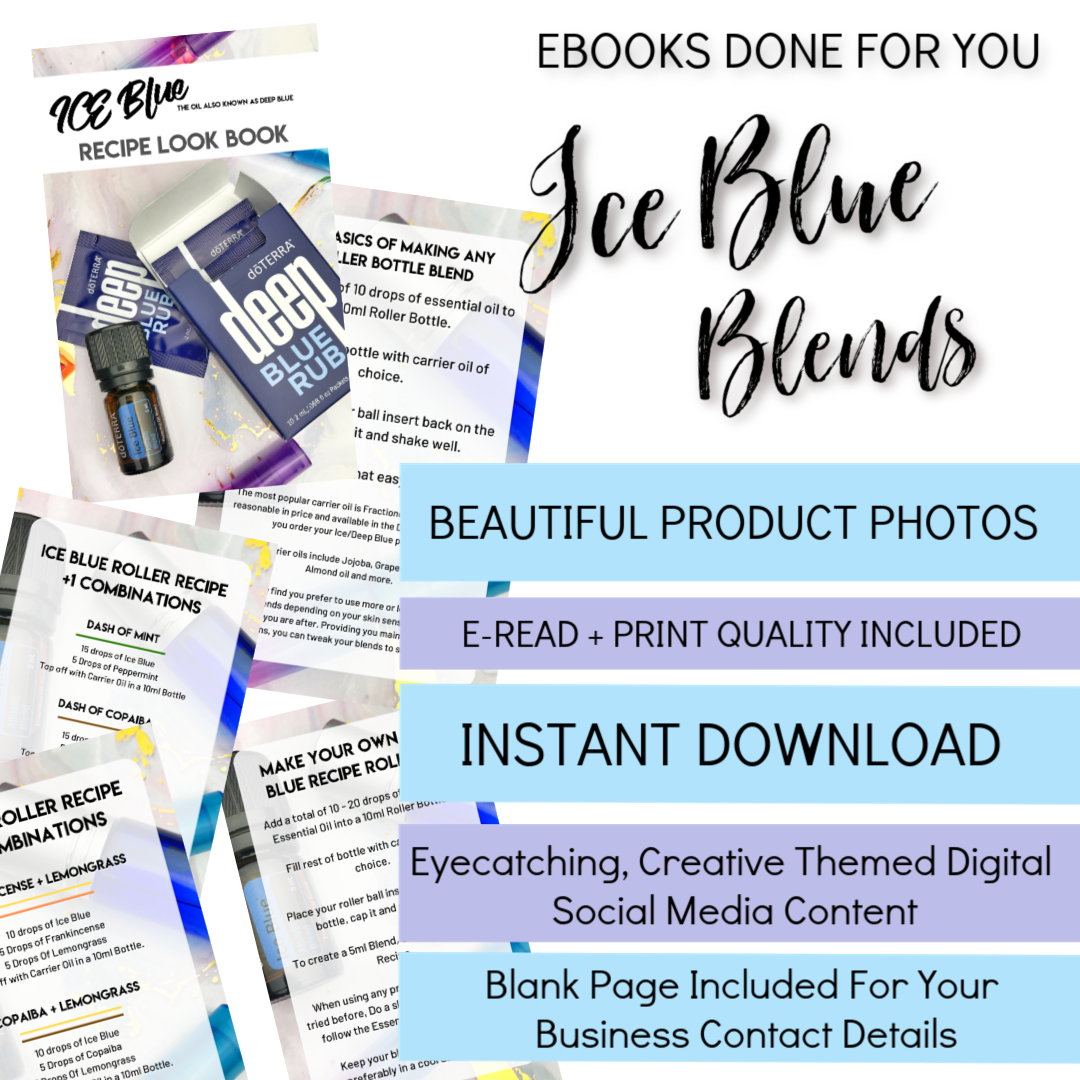 Ice Blue Roller Ball Recipe
Also known as Deep Blue in the United States, this recipe guide was created using the different preferences of over 100 Ice Blue users. 
This recipe was created before Copaiba was available, this is now a popular oil to add to Ice Blue for Inflammation and tired/sore joints and muscles.


Make Your Own Ice Blue Recipe Roll On
The basic Ice Blue recipe:
Using a 10ml Roller Ball Bottle
20 Drops of Ice Blue
Top off with Fractioned Coconut Oil
More Ice Blue Combinations
These combinations can be played with and mixed. For eg: You may want to try Ice Blue, Lemongrass + Copaiba together.
You will need to adjust the amounts accordingly and keep in mind your skin sensitivity as Ice blue is quite a strong oil.
Please ensure you read the Essential Oil Safety Guide for more information. 


Ice Blue + Peppermint Combo
15 drops of Ice Blue
5 Drops of Peppermint
Top off with FC Oil in a 10ml Bottle.
Ice Blue + Copaiba Combo
15 drops of Ice Blue
5 Drops of Copaiba
Top off with FC Oil in a 10ml Bottle.
Ice Blue + Frankincense Combo
15 drops of Ice Blue
5 Drops of Frankincense
Top off with FC Oil in a 10ml Bottle.
Ice Blue, Copaiba + Lemongrass
10 drops of Ice Blue
5 Drops of Frankincense
5 Drops Of Lemongrass
Top off with FC Oil in a 10ml Bottle.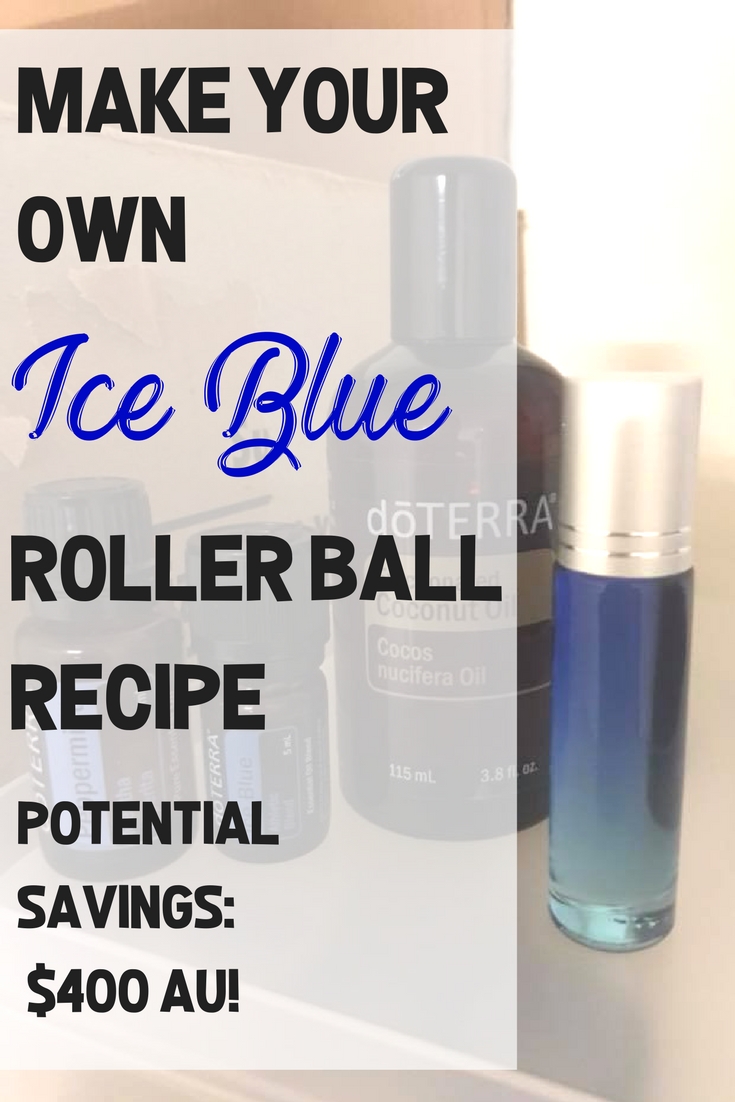 Do you actually save money this way?
Firstly, keep in mind your roll on/touch products are a little different to the DIY blends.
I am not trying to discourage you from buying the Roll On or Touch products, this is simply an option you should know about.
If a rollerball bottle distribution is the key point you are looking for – YES YOU WILL SAVE A BUCKET.


Does The Ice Blue Recipe Have To Be In A Roller Ball Bottle?
No. However…..
Making your Ice Blue recipe in a Roller Ball bottle decreases the amount of liquid you dispense, therefore saving money.
You will also minimise the risk of spilling the product or getting it all over your hands.
If you accidentally touch your eye area after applying with the undiluted Doterra bottle, it will burn. Another reason it's best to handle ice blue with a roller.
Using a Roller Ball allows you to apply the product any time, which is great for travel or back pain during the commute to and from work.
DIY Recipe Cost:
5ml bottle of Ice Blue Wholesale is $42.50AU + FC Oil $16.50 = TOTAL COAST $59
When you add Peppermint Oil, This makes almost 7 x 10ml Rollerball Bottles
Use a Funnel or Pipette when making blends, this helps count the drops and reduce spillage. 


Cost Of Doterra Roll on Ice Blue or Ice Blue Touch On a Wholesale Account:
1x Ice Blue Roll On From Doterra (Undiluted): $85.00 or
Ice Blue Touch (Diluted): $62.00
If you have an amazing consultant (hint…hint…me) they will help you arrange what you need to create your DIY Roll ons. 
This includes letting you know where to purchase the right bottles and seperate products you need.
Sometimes your Doterra Wellness Advocate will go even further and have an in home consult when your first order arrives to ensure you make them up properly.
You simply pay for the bottles on top of your order (around $1.50 – $2 for a decent Roller Ball Bottle or you can purchase them in bulk for less).


Once you try Ice Blue – pharmacy creams and balms will never compare. 
Ice Blue is also available in a cream. 
To Buy Ice Blue visit My Doterra Store
To Enrol as a wholesale customer, Visit HERE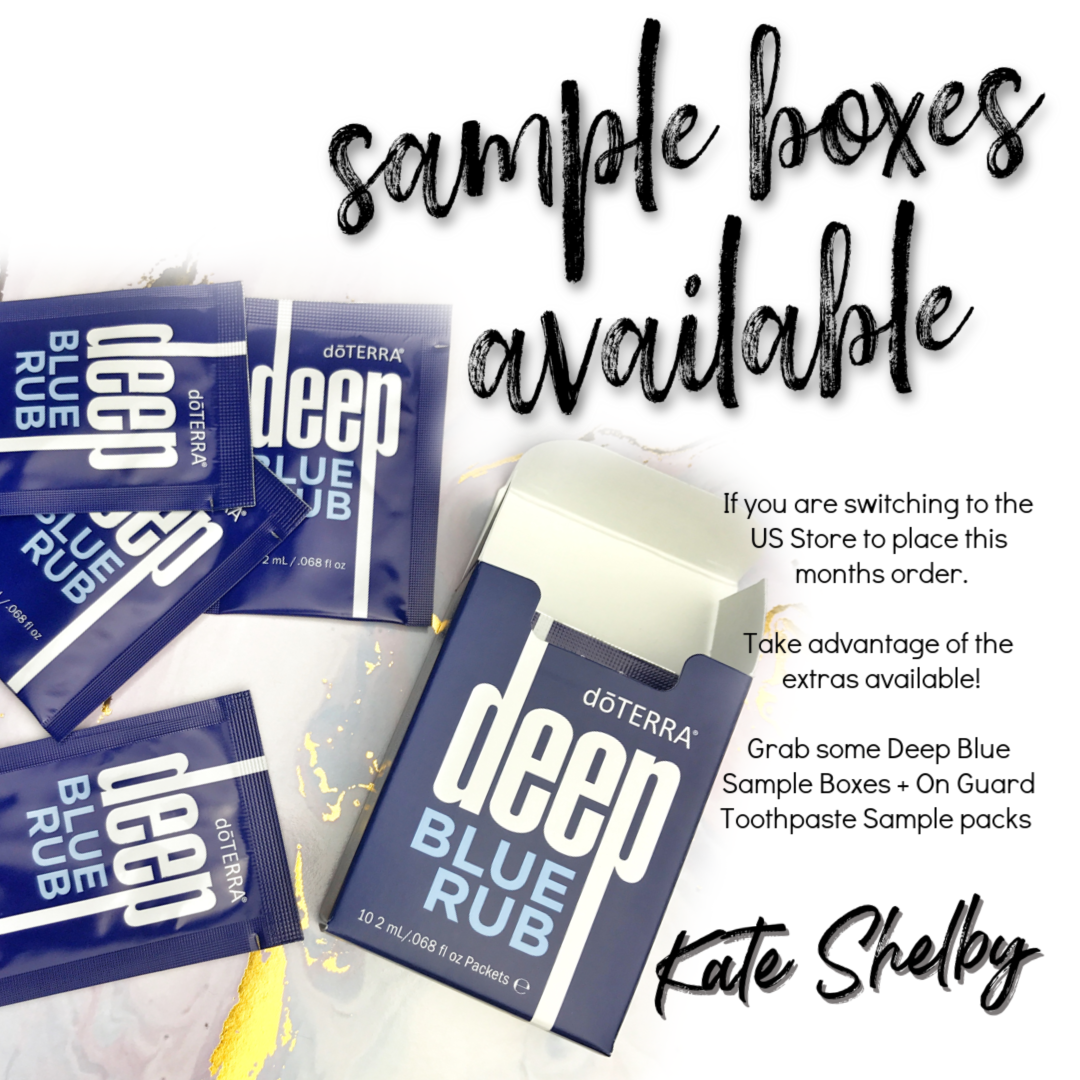 SAMPLE BOXES OF ICE BLUE ARE AVAILABLE
For US Customers, the product is called Deep Blue and is available in sample boxes.
If you are making an order from Australia, but would like to access samples of either Ice Blue (Deep Blue) or the On Guard Toothpaste, switch to the US Store once you have logged in.
You will pay a little more in postage, but you can at least try before you buy the full size products.