3 Recipes For Insect Repellant Using Essential Oils
There are several combinations of Essential Oil available to make your own insect repellant. Creating your own inspect repellant using essential oil costs around the same as a store brought brand, without the added chemicals. It is important to note that these products should not be used on animals.
Doterra has a fantastic product called TerraArmour which repels insects, including mosquitoes.
The TerraArmour & Terrashield is available to both customers and wholesale account holders.
Method For Spray Recipes:
The following recipes should be mixed into a GLASS or STAINLESS STEEL spray bottle.
I personally prefer Amber Glass as the dark tint offers your blends extra protection from the sunlight.
These can be purchased in bulk packs from amazon.
(It is generally not ideal to use Essential Oils in a standard plastic spray bottle.)
TerraArmour Insect Repellant Spray Blend
10 Mls Of Carrier Oil
10 Drops Of TerraArmour
10 Drops Of Arborvitae
10 Drops Of Lemongrass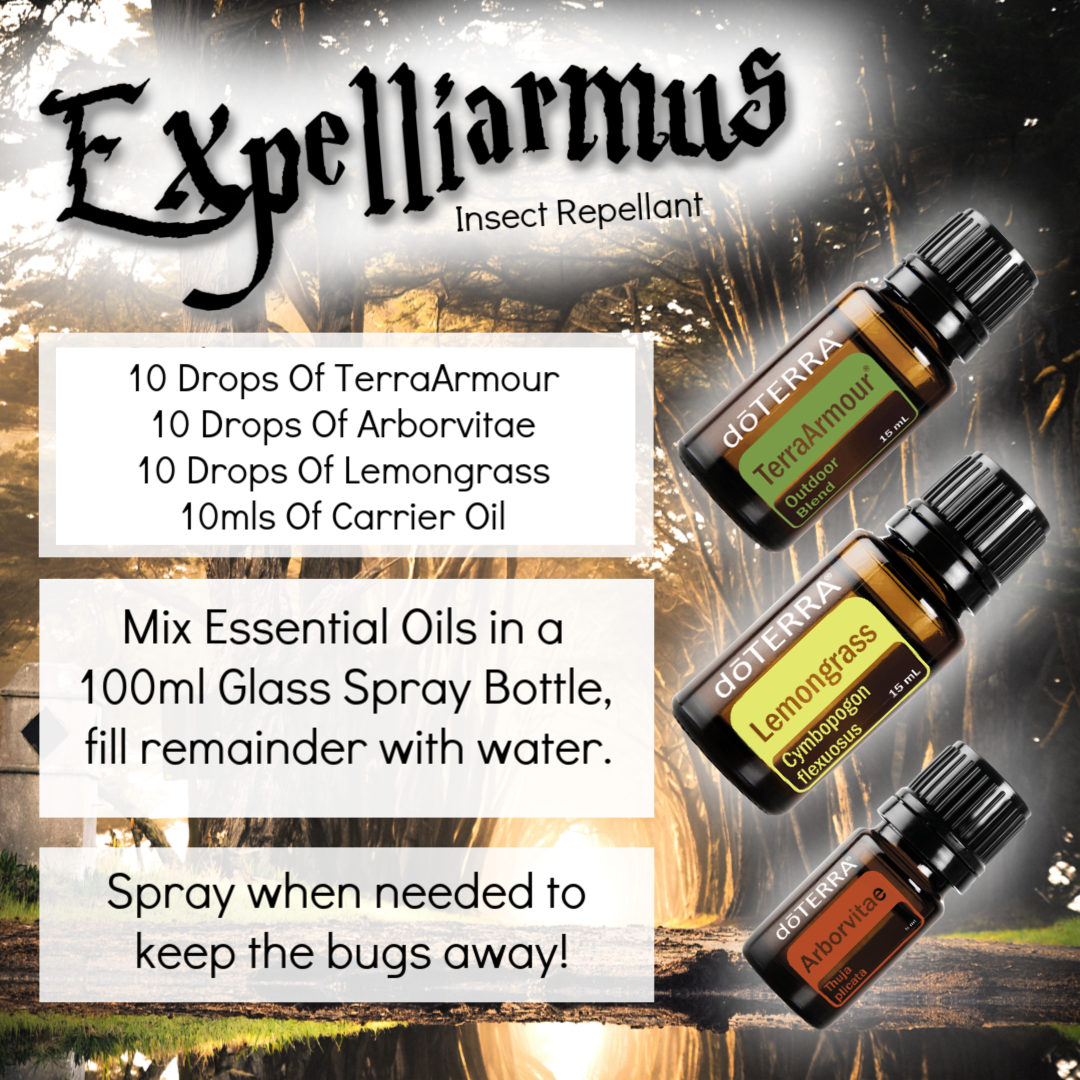 Insect Repellant Spray Recipe Using Top Ten Oils + Citronella
350ml Bottle of Witch Hazel or Carrier Oil
15 drops of Citronella
15 drops of Lemongrass 
10 drops of Peppermint 
10 drops of Tea Tree (Also known as Melaleuca Oil)
Make Your Own Insect Repellant Oil Rub 
In a 200ml Bottle or jar, mix your oils thoroughly. Use before going into the outdoors by rubbing a thin layer along the areas you want to protect. Avoid your eyes, ears and other sensitive areas. 
9 drops Tea Tree (Also known as Melaleuca Oil)
9 drops of Lavender
9 drops of Lemongrass
7 drops of eucalyptus essential oil
150mls Of Carrier Oil
Always Skin Patch Test Blends before use as everyones skin sensitivity varies, it is important to follow safety guidelines when using any brand of essential oil.
Other Essential Oils Known To Repel Mosquitoes 
Citronella
Peppermint
Basil
Clove
Thyme
Lemongrass
Geranium
Lavender
Lemon
Eucalyptus