Description
Essential Oil Image Hub Sample Pack – $19 USD
ON SALE FOR THE REST OF DECEMBER ONLY!
IF YOU ARE A MEMBER OF THE IMAGE HUB YOU DO NOT NEED THESE! THEY ARE INCLUDED IN YOUR MEMBERSHIP
What You Get In The Sampler Pack – Immediate Download After Purchase!
12 Complete Creative Images Using NO Attribution Stock Elements
20 Templates To Customise With Your Own Blend Styles
Access to 100+ Transparent Bottle Images
Bonus Motivational & Wellness Quotes For Social Media
Bonus Images (These Vary from month to month)
What Can You Do With These Images?
You can share them on social media.
You can add your own logo.
You can custom make your own blends with the templates provided
You can print them into handouts
You can do whatever you want with them!
With one exception, Just don't give them away for re-use.
Getting More Images From KateShelby.com
Hundreds of images are available on the Essential Oil Image Hub which is regularly updated until July 2018.
If you decide you would like to access the Essential Oil Image Hub you will be able to have the price of your sample pack discounted from the Image Hub cost.
To join the Image Hub click HERE ($99 USD Lifetime Membership)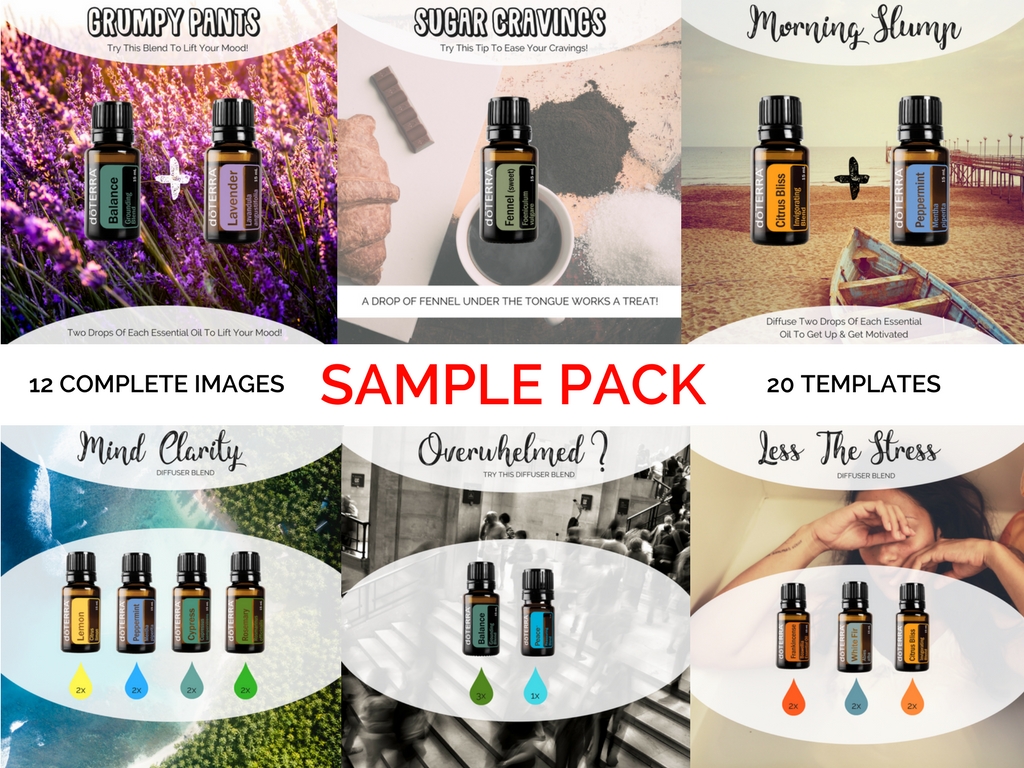 TESTIMONIALS
The image hub is one fantastic tool to elevate your business presence on social media. Professional, inspirational high quality images and templates that can be personalized. The image hub allows you show up daily on social media while building your skill base. I can not thank Kate enough for her amazing ideas and creative skills. She has made social media a whole lot easier.
– Orla McGuire
Wow! Im blown away by the quality of work whether you want to add your personal touch or like me have it done for you. Id rather spend time living.. Thank you so very much
– Philippa Menere
This image hub is amazing. There's such a huge variety of beautiful, high quality and high value images and templates to choose from. The image hub has really assisted me in showing up daily (no excuses now) in my socials. I personally don't always have enough time, ideas, inspiration or creativity to create my own high quality images that I can use every single day. That's what makes this image hub the greatest, I don't always have to do the hard work all by myself. Kate, thank you so much for all your dedication and your canva skills are unreal!
-Danni Finlay