Roller Bottles For Doterra Oils Australia
Welcome! You have come to the right place for Roller Bottles For Doterra Oils Australia.
My little store sells several Roller Bottles For Doterra Oils and ships all over Australia!
I am increasing my range every month with new products for you too use with your Doterra Essential Oils.
This include bottles for personal use and aromatherapy tools to use in your business.
I have noticed a bit of a gap in the market when it comes to Roller Bottles For Doterra Oils Australia.
While there are a lot of Roller Ball bottles available, the 1 – 2ml range seems lacking.
You shouldn't be giving out 5 – 10ml Free samples to "prospective" customers.
This is far too much and gives the impression there is little value in the oil when you can just give it away for free.
The 1ml – 2ml Roller Bottles are perfect for Customer samples.
Check out the 1ml dropper bottles too! They are also very handy to use in your Doterra business.
The current range of Roller Bottles For Doterra Oils Australia also includes:
10, 5, 2 and 1ml Roller Ball & Dropper bottles.
8ml Colour & Patterned glass spray atomisers.
Funnels  
Bottle Unlocker Keys (Coming soon)
Premium Dropper bottles In Gold 
10ml Roller Ball Bottles in an exquisite Ombre Blue
My range of Roller Bottles For Doterra Oils Australia are all made of glass.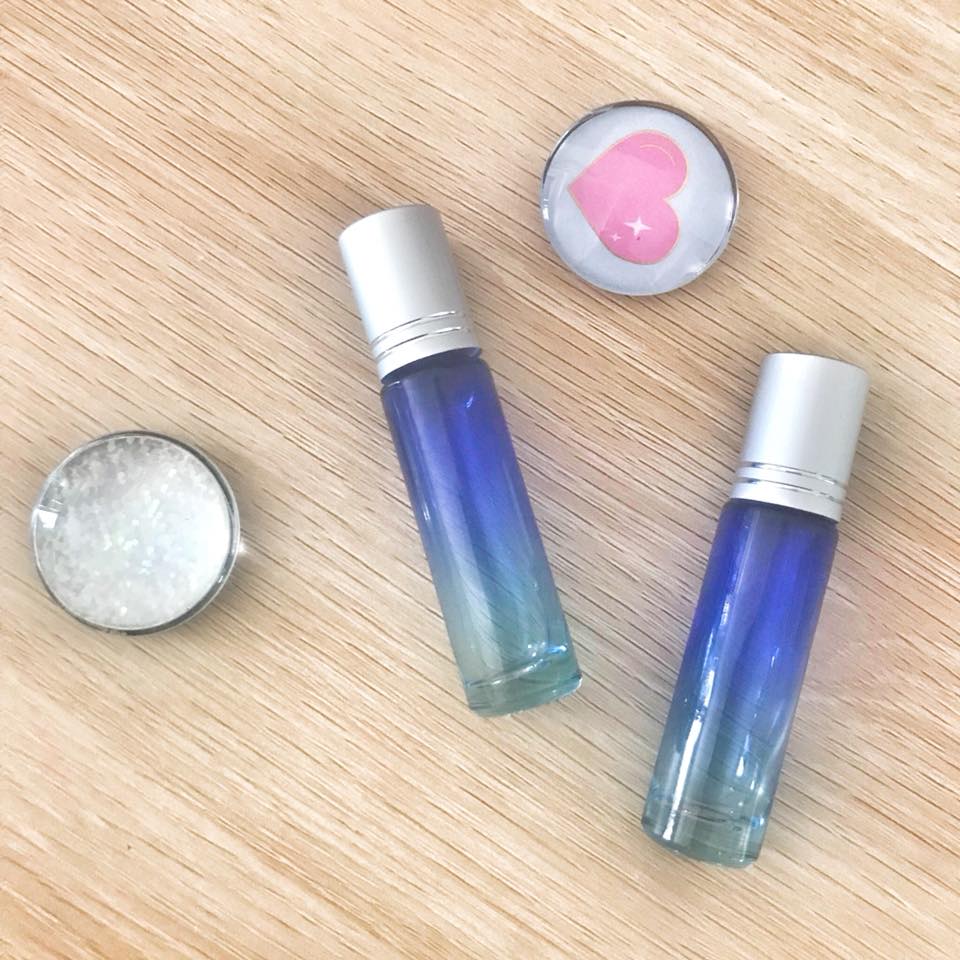 Some have the option of a clear roller ball or a silver roller ball. Why?
Plastic: The balls in these slowly break down after a while. Plastic roller ball bottles are cheaper as the manufacturing costs aren't as high. These are perfect for the 1 – 5ml sample bottles that you give out as the customer won't be looking to refill these unless they are buying more oil. This is when you can supply them with a 5-10ml Roller ball bottle for their blends that will last.
Metal: The Metal Roller Ball Bottle lasts longer. These are the bottles you want to purchase when you are using them as a personal product or selling them to customers for prolonged use – not just samples.
Your Roller Ball Bottles Range In Price. Why?
Currently I stock "Investment friendly" roller ball bottles.
These are very easy on the pocket, the glass isn't super thick.
They are great for samples and personal use, but they vary in quality.
The more expensive a roller ball bottle is in my store, the thicker the glass is and the stronger the cap & insert is.
An example of a premium bottle, with thicker glass is the Ombre Blue 10ml Roller Ball Bottle. 
As my range  increases you will see glass thickness and quality ratings being implemented so you not only know the quality based not he price, you will also be able to judge from customer reviews.
POPULAR SELLING PRODUCT
5 PACK – 10ML ROLLER BALL BOTTLE
Roller Bottles For Doterra Oils Australia can be used with other essential oils.
This is stating the obvious. The store was built to serve the Doterra community however, anyone can buy the products.
These Roller Ball bottles also suit perfume and other types of mixtures. The spray atomisers are great for making your own body & breath spray too!
Visit HERE to see the entire range Roller Bottles For Doterra Oils Australia