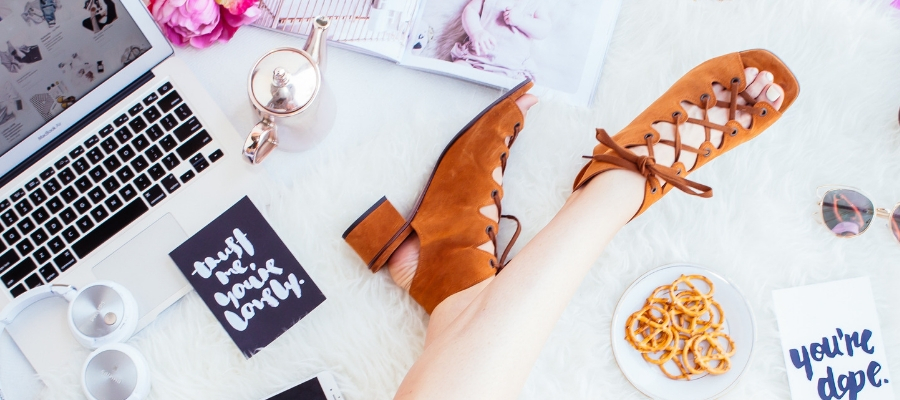 Repurpose ONE Image Using ONE Simple Process.
To repurpose your images you need to know two skills.
How To Create An Image
How to Reupload/Resize Images
If you do not have those skills, learn them before you even fill your brain with what I'm about to show you.
You can follow a basic tutorial HERE.
The ONE simple process you need to repurpose your image content is to Reupload/Resize.
This is all you are doing here unless you choose to edit/add things**
You are just repeating this for the different sizes you create.
Repurpose ONE Image several times.
Step 1:
We started with a Facebook Post.
This was a cute recipe name brought up by a member in the group FREE Essential Oils Social Media Images.
Step 2:
Using Magic Resize* in Canva, this was then turned into an Instagram Post.
Tip: To make this easy to read, condense your text by doing things like replacing "and" with "&" and "Minutes to "Mins"
Step 3:
Using Canva, Open up a Pinterest Size Template or your preferable Pin Size.
Reupload your Instagram image onto a Pin, Edit around the rest.
Alternatively you can just make a new pin – but why take the extra time?
Step 4:
Using Everything you now have, Whip up a blog post. Upload or Embed the images you already have.
Step 5:
Pin your blog post to Pinterest. If it is a recipe or helpful tip, share it in groups that allow this.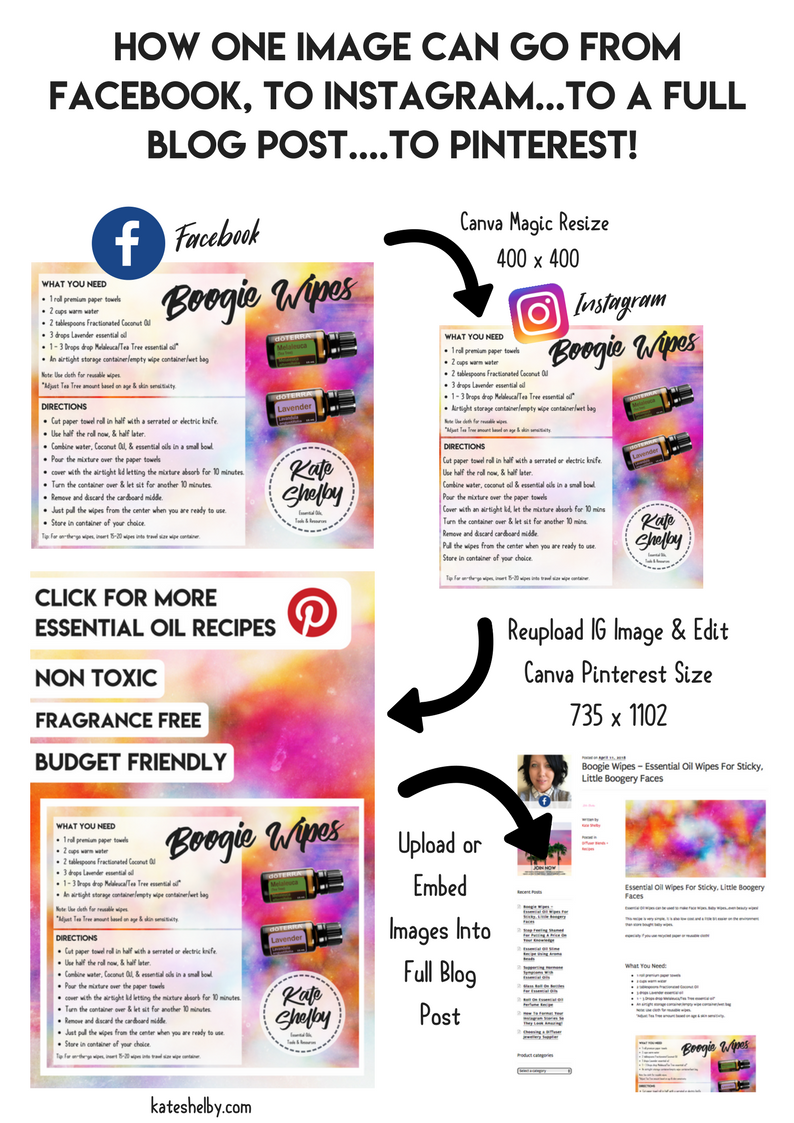 This is where your repurpose adventure may end, however – look where this took me…You are here right now!
Here are my personal steps from here….
Step 6: Using all of the above images, create an image on "how to repurpose images".
Step 7: Write a blog post, upload this image – this is where we are now.
Step 8: Create a Pin for the Blog post & create optional extra FB & Instagram images to promote blog post.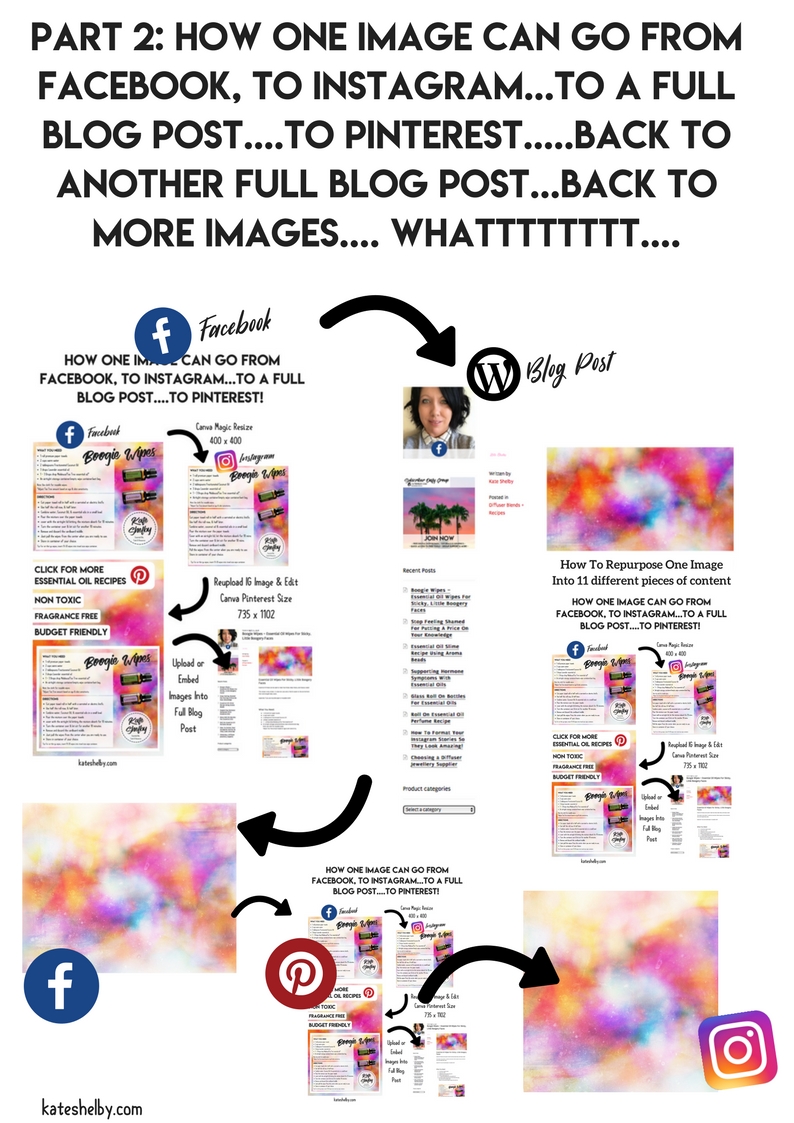 Look How I Repurpose ONE Image Into So MANY Different Pieces Of Content
Several pieces of content for social media.
Two different blog posts (One Essential Oil Recipe & One "How To" digital resource).
Pinterest Pins to produce traffic .
Printable Images for cute flyers and cards.
Extras: You can even make GIFS and Videos with your images
Extras….So many more possibilities, but Ill leave it here for now.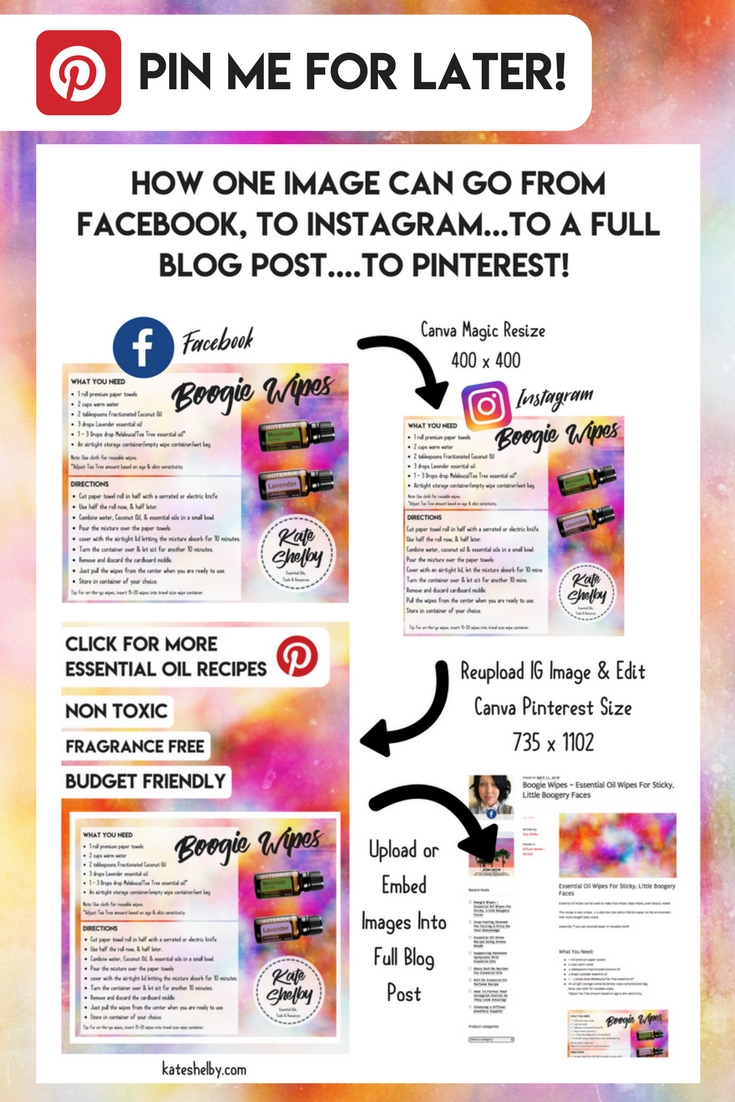 *For Canva NON-Premium Members, Instead of using RESIZE, Just download and Reupload your image into the size you are after.
** A beginner can certainly get away with creating images by just reuploading/resizing – ONE SIMPLE PROCESS ON REPEAT.
If you are intermediate, you may want to edit and add things based on the platform – as you can see in some of my variations here.