Bloggers Guide To The Best Link Ups
What Are Blog Link Ups?
Blog link ups are a free and easy way to promote your blog. A Blog Link up is a great support tool to use, particularly when you are in the early stages of blogging. The connections and communication you will make with the other bloggers in the link up can be very rewarding.
The Rules Of A Blog Link Up:
Blog Link Ups have different sets of rules, so if they ask that you engage with others, it's best to respect that.
The Benefits Of Engaging Within A Blog Link Up:
Network & Make Connections
Become Inspired
Find great content to share
Enjoy traffic when you walk away from your computer
Introduce yourself, maybe you will need a guest blogger in the future?
Hints & Tips For Blog Link Ups:
Link articles that are highly relevant
Choose your best content
Engage with others who have relevant content
List Updates: Anything that isn't listed on BOLD has not been checked for 3 months. Feel free to let me know if you find any closed link ups. If you have a link up you would like listed, contact me on Facebook.
The Big List Of Blog Link Ups & Linky Parties 
MONDAYS 
All Mum Said – Mummy Mondays
Any topic goes. Share on social media using the hashtag – #MummyMondays
Tin Box Traveller – Monday Escapes
Monday Escapes is a place to link up your travel memories
B Loved Boston -Weekending
A Blog Link Up dedicated to what you got up to on the weekend
Simple Wife Of A Fire Life  – Inspire Me Mondays
Family Friendly Posts Parenting/Recipes/DIY
This Chaotic Bliss – Homeschool Nook
All Things Homeschool
The Life Of Faith – Mommy Moments
Post can include anything related to mommy-hood, children, homemaking, pregnancy etc
Create With Joy  – Inspire Me Mondays
This blog Link Up is for anything related to DIY/Craft/Recipes
The Modest Mom Blog – Modest Mondays
Topics include: modesty, being a wife, mother, homeschooler, homemaker, cooking, sewing, etc.
My Uncommon Slice Of Suburbia – Inspire Me Monday
Blog Link Up dedicated to DIY/Home/Crafts
Lisa's Creative Designs – Make Yourself At Home Blog
Blog Link Up For Homemaking/DIY/Craft
Imperfectly Perfect Mama – Mama Blog Monday
Topics include recipes, tips, DIY projects, or parenting advice.
Adventures Of London Wiki – Monthly Travel Linkup 
Monthly Travel Blog Link Up runs from 1 – 7th of each month.
Making Our Life Matter – Topic Link Up
Welcomes Recipe & Home tips but also runs by topic I.E. "Back To School"
Org Junkie – Menu Plan Monday 
Meal & Menu Planning Blog Link UP
A Fresh Start On A Budget – Motivational Monday
Anything goes. Recipes, DIR, Home , Life
My Little Shop Of Treasures – You're the Star Link Party
Craft/DIY – Occasional Themed Link Up
TUESDAYS
Kylie Purtell & Essentially Jess – "I Blog On Tuesdays"
Australian Blog – Anything goes, Quite an active Blog Link Up.
Wandermum – City Tripping  (Returns September 5th)
Travelling In The City & Metro Adventures Blog Link up
Nap-time Creations – Create Link Inspire
Link up your Recipes, DIY, Craft and Sewing Projects
LouLou Girls Fabulous Party Kid Friendly Only
Hearth and Soul Hop Link Party
Style Sessions Fashion Link Up – Fashion & Style
Turn It Up Tuesdays – Open Slather
TrekkingThru the Week – Christian Faith
Two Cup Tuesday – Recipes Only
WEDNESDAYS 
Mumma Morrison – Hump Day Hype (Currently On Hiatus)
Australian Blogger – Almost anything goes
Pat & Candy – Coffee and Conversation Link Party
Social Family Articles – parenting, homeschooling, marriage, recipes, DIY, saving money
Recipes That Crock – Whatcha Crockin' Wednesdays
This blog link up is for recipes & crock pot cooking
Happily Ever After Etc – Welcome Home Wednesdays
This blog is a homaking/DIY/Organsation/Decor but for the Link Up Anything Goes
Makeovers & Motherhood – Welcome Party Wednesday
Often This Link Up Is By Topics E.G. "Apple Recipes"
The Pleated Poppy – What I Wore 
Fashion & Style – only link outfit related posts.
Our Three Peas – Wine'd Down Wednesday
Use the hash tag #wineddown when sharing
Gingersnap Crafts – WOW Me Wednesday 
Share something you have made
Bringing Up Georgia – #fortheloveofBLOG
Parenting
The Homesteader Hop – Home/Gardening/Cooking/Country Living
A Books & More – Picture Perfect Party Linky 
Picture Posts Only (Articles with Picture feed and minimal text)
Shopping My Closet – Style Me Wednesday 
Fashion & Style Links Only
What A Wonderful World – Wanderful Wednesday
Travel Articles Only
THURSDAYS
Share Your Style Homemaking/Recipes/Decor
Joyful Homemaking – Think Tank Thursday
Anything you have made I.E. Recipe, Art/Craft, DIY
The Mommyhood Moments – Thoughtful Thursday LinkUp 
Family Social – No Profanity. Monthly Link Up
Being a Wordsmith – Traffic Jam Weekend  
This linky party is all about linking up your old posts so you can get some new comments and traffic.
Crafts a la mode – What to do Weekends
This is a Craft/DIY/Recipe Etc Link Up
Bebe Voyage – Family Travel LinkUp
Travelling With Your Kiddies – Posts must be about traveling with children.
Mommynificent – Booknificent Thursday Link Up Party
Book Party. This link party is all about sharing how books are impacting you
Creative K Kids' – Thoughtful Thursdays
homemaking/ homeschooling, devotional or biblical posts
Try it- Like it – Creatively Crafty Link Party
Link up something YOU made/wrote/created.
Ducks n a Row – Recipe Sharing Party
Recipes Only – Hasn't posted since June
miz helens country cottage – Full Plate Thursday
Recipes/Cooking Blog Link Up
Only Taste Matters – Allergy-Free Thursdays
Gluten Free Recipes Only – Hasn't posted since January
FRIDAYS
FanDay Friday Link Party (Thurs 10p) – family friendly
Fit and Fashionable Friday – fitness and fashion
Food Friday – anything food related (not only recipes)
Off-Fridays Mental Illness Blog Share (every other Friday) – mental health themed
Photo Friday (Thurs 8p)
The Weekly Postcard – All things travel
Ultimate Pinterest Party (12p CST)
Weekly Wrap-Up Homeschooling
SATURDAYS
Raising Memories – Sharing Time Linky
Blog link up for DIY/Kids/Home projects
Open Slather – Anything Goes at One Mother Hen
Anything Goes – Australian Website
Deep Fried Fruit – Lovin Life Linky My Monthly Loves
Your favourite post for the month – Anything goes.
 Brilliant Blog Posts – Honest Mum Blog Link Up
Uk Blogger – Anything goes.
Vivid Marketing – Social Media Success Stories.
A Link Up For Social Media Success Stories
Blended Life Happy Wife – All For Mamas Link Party
Jembellish – Round The Tuit
Fearless Family Travel – Travel Posts Only
SUNDAYS
Hodge Podge Moments – Bloggy Brunch
Bloggy Brunch is a monthly link up where bloggers are invited to link up their favorite posts from the month
Denise Designed – Sunday Features
Link up your favorite home decor, DIY, craft, or recipe.
Miss Sippi Piddlin – Weekly Wrap
Sunday Fitness and Food Linkup
Please Share Me On Pinterest! I Value Your Support.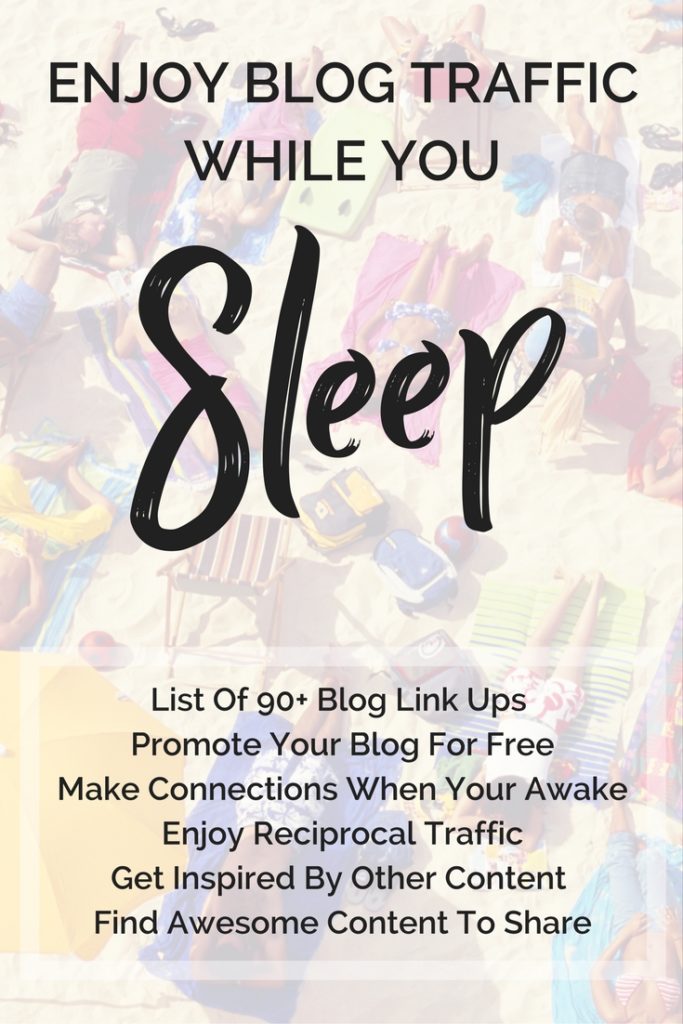 THIS LIST IS UNDER CONSTRUCTION. 
More link ups will be added over time.
Did you find a broken link?
Let me know in the comments so I can keep this list up to date for the blogging community.
For Australia Only Link Ups, Visit HERE